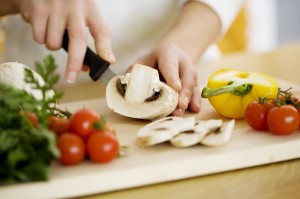 T. Ho Foods enhances the food industry by providing individualized services and customized products to restaurants and food service distributors. Whether we produce a client's original recipe or develop a new item for their product line, we perform each task with endless dedication to providing specialized products of the highest quality. Every account is handle with strict confidentiality. Our principles of integrity and honesty are the underlying factors that push our company beyond our client's expectations. Our top priority is to build trust among our clients by placing their values, their standards, and their needs first. For multi-unit restaurant chains, utilizing our services provides product consistency among all locations.
Getting the process started is very simple. More importantly, it is just a time for you to get more information, see if we can process the product that you would like with the quality and consistency that you desire, and see if this will be a money and time saving opportunity for you.
First
Contact us to answer your initial questions about our services. Then, we will follow up by setting a meeting to discuss the specific products you are interested in having processed. After determining the products to be processed, we will sign a confidentiality agreement to protect your recipes.
Next
Using your recipes, we will prepare product samples for your review. When you agree that we have a perfectly matched product, we will work together to design the packaging and labeling that meet your specifications and guidelines set forth by the USDA or FDA.
When you are completely satisfied with the final product, we will quote the price.
The Results
If you decide to move forward from this pont, we will contact your distributor, set the item up in their system, establish a production/distribution schedule and determine a start date for distribution. The product will be listed as proprietary; therefore, your distributor can only sell it as you direct.
With T. Ho Foods, not only are the products customized, but the process in which they are developed and produced is individually customized as well. We also have the ability to duplicate a product that you like, even if you do not have the recipe. We can guarantee that each product will remain consistent with your needs and standards. With our people and processes, we have provided quality service to small local clients, as well as large national ones.
Research & Development Takes Time
Time to source out the specific ingredients that you want to use.
Time to perfect the process to consistently make what you want, the way you want it.
Time to custom design the packaging and labeling according to your desires.
Time to get the product in your distributor's computer system and a distribution schedule established.
Typical Product Lines That We Have Processed & Packaged for Customers
Roll Products- (Vegetable and Pork Spring Rolls; Vegetable and Pork Egg Rolls)
We have an extensive line of roll products that you may incorporate into your menu. You may order existing rolls or alter the         ingredients to better suit your restaurant's fare.
Handmade Appetizers- Crab Cakes, Pot stickers, Crab Rangoon
Sauces & Dressings- Barbeque Sauce, Cooked Sauces, Mayonnaise Base Sauces
Dry Blends- Rubs, Spices, Mixes